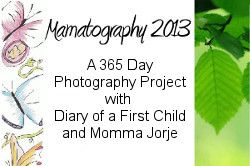 January 19
The Story: My son's first moonth.....
The Story: Blocks with daddy......
January 20
The Story: My daughter often wants to climb trees, usually when she sees a tall straight tree trunk with no limbs to grab. I oblige her, but then she wants help. We haven't made it up a tree yet.
January 21
The Story:
A few months ago, my daughter graduated from a wavy cutter to a butterknife. The best is the knife her size. Knife-cutting is serious business, from the look on her face.
The Story: Snow! The first (for real) snow of the season fell, and my daughter wanted to go out. She went out after the two blizzards last year, but this was her first snow really. She loved the crunch of the snow (thanks to the freezing rain on the tail end of the storm).
We took a little trip around the block and found a snow hill. (Small, but she's into hills.) She was frustrated at first, but triumphantly made it to the top.
Isn't it a joyful feeling to crunch crunch crunch away?
January 22
The Story: I made it to the end of the day without taking any pictures. Then I realized I was doing what I spend most if my day doing: holding my son, his head on my shoulder. I took a picture. He is one month old today......why do they grow so fast?
January 23
The Story: My husband went out for a few hours, and I had both the kids. We were stuck inside because it was cold and rainy and slushy, and I didn't want to take baby out in that weather. I decided to throw together a sensory bin I've been thinking about for a while. I got black beans, black-eyed peas, some colored buttons, some spoon implements and cup-like containers and let me daughter go to work. She spent two hours playing with this all kinds of ways--took all the buttons out, poured, dumped, stirred, ran beans through hands and fingers, buried things, and even decided to "lie down" inside it. Good times with simple stuff.
January 24
The Story: Pretty chill day. I got out the wooden vegetables, knife and cutting board a friend got my daughter long ago. (Seems strange when she can now cut for real to some degree.) She had fun making us "soup." Of course it was delicious! (Oh, and that's our cat, Jasper looking on.)
January 25
I love babywearing, but it's taken some time to work things out. (Sometimes I need to be able to nurse at a moment's notice!) I have tried pretty much all my slings. I do need to try the ring sling, but so far my Kozy Carrier has been the go-to choice. Love keeping this baby close, but it's nice to have two hands!